Member, Participant and Community Chat Server - Mattermost
For many years, OARC operated a Jabber service which was available to OARC Members only.  We have replaced that service with a more modern chat platform - Mattermost.  Mattermost is open source software, and has open-source clients available for all major desktop and mobile platforms or can be used in a regular browser window.  Information on Mattermost client software and downloads are available here.  Mattermost nicely augments the mailing lists we operate, including dns-operations, and is routinely used in coordinating Community Response and Member-to-Member/Member-to-Community communication.
Account Creation, Logging In, and More

Anyone wishing to sign up and use the platform for discussion of the DNS is welcome to do so.  OARC's chat service is available for signup here.   Please be reminded that all use of OARC services are subject to OARC's Code of Conduct Policy. 
Please note that anonymous participation is highly discouraged in OARC's professional community as it works against openness and transparency.
Mattermost makes a number of  Teams and Channels available on a chat server.  In OARC's case, we have the Members Team for Members and the Community Team (General Public) available for use. 
Anyone in the DNS community is welcome to join our Community Team (General Public); and use it for discussion of the DNS. 
The Members Team is only available to OARC Member and Supporter Participant contacts.  IMPORTANT: OARC Members and Supporters should use the same e-mail address as they have used to register on OARC's Portal to sign up for Mattermost.  This is typically your work e-mail address.
Non-members who would like access to that team are welcome to email admin (at) dns-oarc (dot) net for information about how to become a member.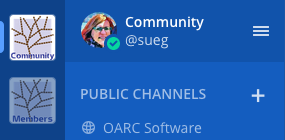 Users of the chat service are welcome to create any public or private channels they find useful for discussing DNS community issues, on either the Community or Members teams.  OARC will be monitoring team creation and activity levels in order to watch for abuse and do basic housekeeping, but otherwise have no plans to monitor channel content.  If participants witness any behavior they feel is in violation of OARC's code of conduct, we ask that it be brought to our attention.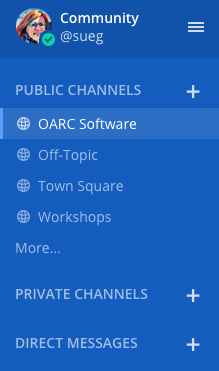 If anyone has any questions about the chat service, please feel free to email us at admin (at) dns-oarc (dot) net, or find us on Mattermost.  We hope everyone finds this service useful for communicating with the rest of the DNS community.